There is lots of talk right now about people setting goals and getting fired up for a great year. But the methods many people use set them up for failure instead of success.
The Problem with Goal-Setting
In my case, I know I have a tendency to set way too many goals – many of which are too big, and some that are not actually that helpful.
This of course means that I focus on certain types of goals and neglect others. The things I focus on are things I probably would have done anyway. They're either entrenched in me already, or they're things or results I really like doing. For example, even though I can't say I always love exercising, I do some form of exercise very consistently. I'm addicted to the buzz I get afterwards and I hate feeling sluggish if I haven't doing anything for a day or more. So, I could set a goal of running a half-marathon, which is something I wouldn't otherwise do, but it's not really going to change my life or improve my health in any significant way. (On the other hand, cutting out snacking… now that could make a big difference!)
So, what happens is that I'm left with other goals that are very important to me, but are not given my focus, which then becomes extremely frustrating when they're not achieved.
Too Many Goals = Nothing Done
But you've got sooo much you want to do?!!  Yes, so do I! But there's a solution… because we don't have to do it all at once :).
Here's a great post from Derek Halpern that demonstrates the problem with setting too many goals at once. The image below sums it up nicely. You can be working your butt off on a heap of different goals or projects, but if none of them get finished, you've actually achieved very little. Plus, you'll end up feeling frustrated and lose confidence in your ability to achieve the goals you set for yourself.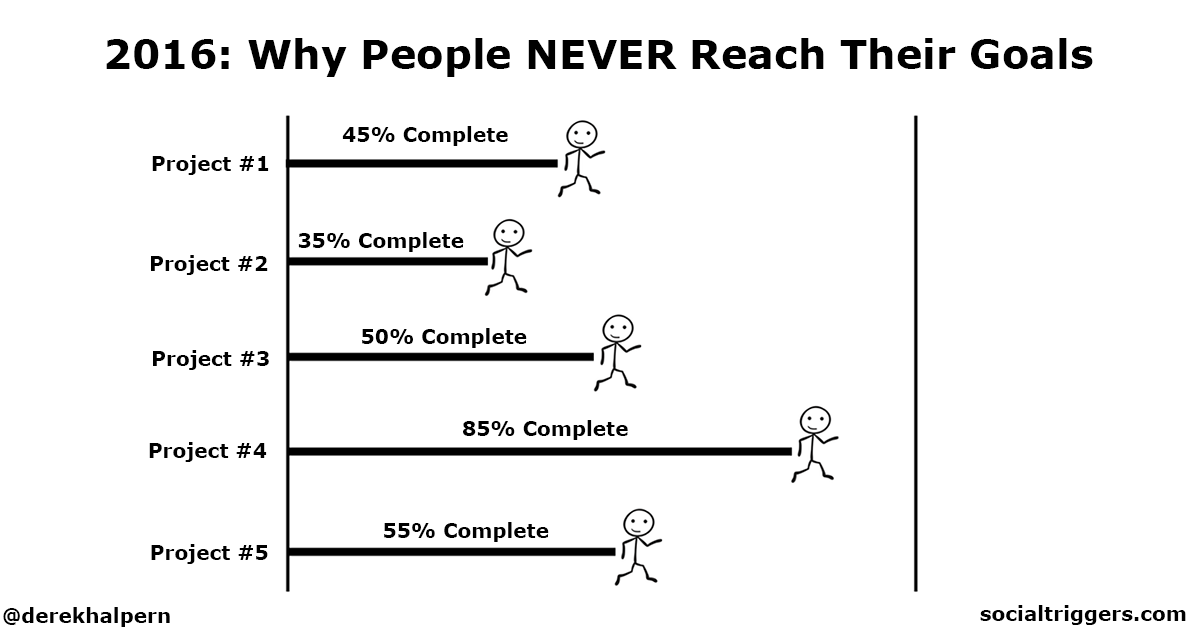 Imagine if you had a customer (or a boss) waiting on each of these projects. None of them would be happy.  Instead, if you had just focussed on Project #1 until it was complete and then started Project #2, you'd have 1 or 2 completed projects with the same amount of effort.
Setting Do-Able Monthly Goals
In this podcast, Chris Ducker highlights the flaws of annual goal setting and suggests also doing short-term planning – perhaps setting 7-10 monthly goals. I'm a big fan of this idea. Having things that are more like quick wins that will give you a feeling of accomplishment and achievement. In my opinion, these also get you accustomed to reaching your goals and doing what you say you're going to do (an extremely important life skill!).
And imagine, if you set just a few goals every month, across the course of the year, you're going to cover a lot of goals!
Some guidelines for setting your Monthly Goals:
Make them action-oriented rather than outcome-oriented. After all, you can't exactly control how much revenue or how many email subscribers you'll have, but you can control how many sales calls you'll make or how many articles you'll post.
They should also be very achievable. Don't make them achievable only if everything else goes precisely to plan. There will be problems that crop up, family issues that arise, unexpected visitors, unexpected opportunities, and plenty of other unforeseen things that will affect your time and, more importantly, your energy levels. Factor in a big buffer so that your goals are easily achieved. You want to get into the habit of achieving your goals.
And of course, most (but not necessarily all) of your short-term goals should feed into your long-term goals. For example, if one of your long-term goals is to reach a certain revenue target, a short-term goal could be to launch your first email newsletter or choose 2 tradeshows and make bookings for the year. Or if your long-term goal is to be healthier, a short-term goal could be to limit your alcohol to weekends only.
Long-Term Goals and/or Themes?
While short-term goals are usually the ones you'll actually do, it's also important to look at the bigger picture and really decide where your life/business is going. Setting actual long-term goals can be helpful but there are more and more (smart) people who are also recognising the value of setting a theme or direction for the year to help guide your day-to-day decisions.
A great strategy is to think of an overall theme or single word for your year.  Kelly Exeter does this and has documented her latest word for the year here.  Chris Brogan prefers to choose 3 words for the year and he has a great post describing his process and some outcomes here. And Carly Jacobs sets a few high-level goals which are more like themes for decision making. These approaches can serve as your compass for guiding your decision making and helping you set your short-term goals.
A Process for Setting AND ACHIEVING Goals
So, given these ideas, in my view the ideal goal-setting method involves;
An annual review (perhaps at the start of the year but not necessarily). Look at where you've come from in the last 12 months and think about where you want to be 5 or 10 years from now. Spend some time really deciding about the direction you want your life and/or business to take.
Then set some long-term goals. I think it's hard to know whether these are achievable within one year but set them as goals and don't stress about whether it takes more or less time to achieve them. Even though you're not focussing on these all at once, try not to have too many goals on your radar – less than 10 is good.
Then define a few, very doable goals for each of the first few months (you could try doing more but you'll find they're rarely relevant in a few months time.)
Each month, revisit your goals, set new monthly goals, and adjust any current monthly goals as appropriate. (Setting goals for a few months in advance will give you the confidence that lots is going to get done over time, but they may require some tuning as the time gets closer.)
Keep this somewhere that you'll see it each day.
Here's a template for how it could look.
Now start goal-setting and goal-getting!!! Good luck.